Boost Cooler Stage 3 NA EFI DST
Description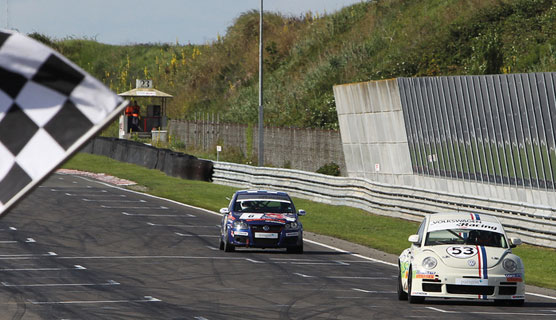 Features
EFI controlled, variable injection
Reduce the intake charge temperature, results in a denser more powerful air/fuel charge
Powerful and effective octane enhancer
Reduces cylinder temperatures
Longer more stable combustion expansion and progression
Cools and protects the tops of your pistons
Perfect for cars with thermical problems and prior tuned cars
Removes carbon build up from combustion chambers, pistons and valves
Reduce the specific fuel consumption
No need for expensive racing fuel or additives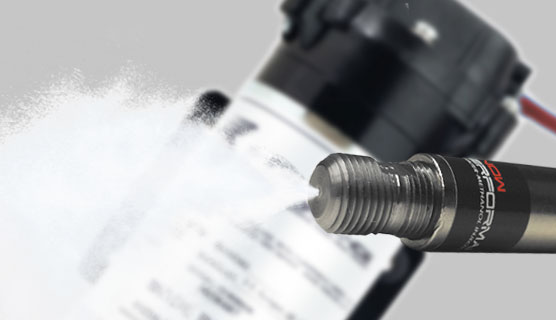 Optimal Cooling with Water Injection
The Boost Cooler injection works in three ways: Firstly, when water is injected into the intake system prior to the cylinder head, the small droplets absorb heat from the intake air.
When we apply heat energy to it, its molecules begin to expand: a great deal of heat is absorbed during this process owing to water´s specific heat capacity - approximately 4.2kJ/(kg.K). Next, the small droplets of water start to evaporate. And so the intake air charge is cooled still further (up to 60°C and more).
Finally, when the remaining water droplets and water vapour reach the combustion chamber, steam is produced. When the water changes from the liquid to gas state, large amount of heat energy is consumed in sustaining the process. The latent heat of evaporation is 2256kJ/kg, approx. six times more than gasoline.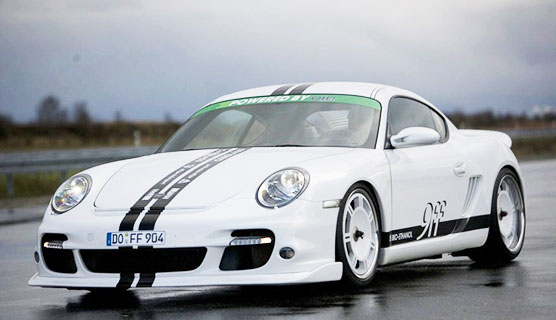 More Power by Boost Cooler
With the Boost Cooler, you can achieve up to 10% extra power for suction engines. The optimal cooling compensates for power losses at higher outside temperatures. In addition, deposits in the combustion chamber and intake manifold are reduced.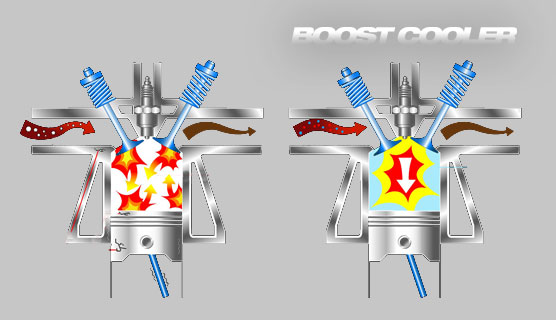 116 Octane Race Gas Performance
Water or water/methanol is injected into the intake air using the patented high-pressure pump. The evaporation mist achieves extremely effective intake air and intercooling, whereby, among other things, an uncontrolled combustion ("knocking") is prevented. The effect is demonstrably comparable with 116 octane racing gasoline.

QUALITY through technical know-how from the motorsports
Over the years, Snow Performance has become the world´s leading manufacturer in Water-Methanol Injection Systems. Each system has been designed and tested by engineers to ensure reliability and robustness.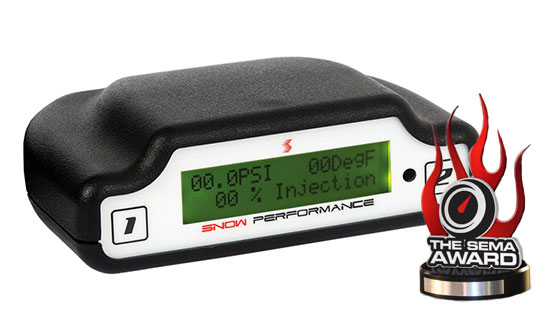 EFI controlled variable injection
Award Winning System! - The Stage 3 Boost Cooler® is unmatched for accuracy and adjustability in water-methanol injection systems! This system can be used on any engine with a traditonal EFI (electronic fuel injection) system, and features our LCD display with on-the-fly adjustability. The Stage 3 DI creates a injection map based of the gasoline fuel injector pulse width (and optionally boost pressure when used in a turbo- or supercharged engine).
Extremely easy to set up and dial in - the software creates a delivery map based on boost and/or EFI signal from just a few easy to set points you punch in from the drivers seat. The LCD Screen displays boost pressure, fuel injector duty cycle, as well as water-methanol injection percent. Quick, easy, positive adjustments are made with 2 push buttons. Low profile design allows for easy-to-view and discrete mounting. Note: The EFI-Systen can´t be used in direct injected engines.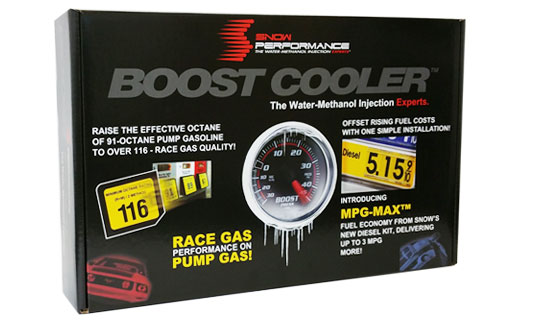 Delivery scope
High Pressure Diaphragm Pump 300+ PSI
1 x EFI LCD-Controller
2 x Nozzle
1 x 3l Boost Cooler Reservoir
1 x Low level indicator (includes LED and an EZ installation gommet)
1 x Pressure tubing 1/4" (3 metre)
2 x 1/4" Nozzle Holder, 90° low profile Aluminium
1 x Installation material
1 x Installation instructions
FAQ
Frequently asked questions
Why turbo / naturally aspirated engine achieves more power with the Boost Cooler?
The main problem of any internal combustion engine is the thermal load. In nearly all engines, the power is restricted by the temperature in the combustion chamber. If a certain temperature is exceeded, uncontrolled combustion ("knocking") occurs.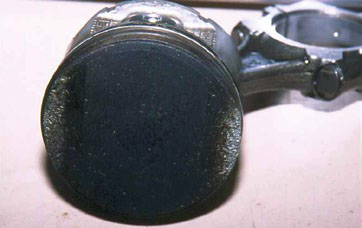 Uncontrolled combustions results in a massive loss of power and engine damage. In a turbo engine, this problem is compounded even further. The intake of the turbo engine heats up strongly in the turbine (through compression and heat transfer of the exhaust gases) and the thermal limit is quickly reached. In conventional turbo engines, one tries to get this problem solved with the help of intercoolers.
The performance of a turbocharged engine is therefore directly dependent on the efficiency of the intercooler, as well as the cooling rate of the intake and charge air. The efficiency of intercoolers, however, is constrained by the ambient temperature and the maximum size of tight physical limits. An increase in boost pressure no longer produces more power and the damage to the engine is virtually inevitable. This issue can be solved using the Boost Cooler waterinjection concept. You can ensure additional cooling of the heated intake air through the injection of a water / alcohol mixture. The great advantage of the Boost Cooler is that the cooling is virtually unlimited in physical terms. That is, if the intake air is too hot, simply increase the injection volume to achieve the required cooling degree. This unique advantage can help fully exploit the capacity of turbo engines and the engine power is not restricted by the thermal limits.
Does the Boost Cooler cause any damage to my engine?
No. At a relative humidity of 50% and ambient temperature of 25° C, a turbocharged engine consumes (2.0 l displacement, 1 bar boost pressure) approx. 160 ml of water per minute. For example, if a gasoline engine is used, the combusted air / fuel mixture consists of approximately 50% of water vapour and carbon dioxide.

With the injection of 250 ml/ min of water per minute at full load, the Boost Cooler accounts for less than 1.6% of the exhaust gases Horror scenarios ("water hammer", rusting motors, etc.) that some of you might have read on the Internet tuning forums are only based on a lack of understanding of the technical writer or improper systems.
Study of Porsche Engineering (excerpt): "The technology of water injection into the intake manifold provides significant potential. This technology can use a stoichiometric air-fuel ratio in the entire operating area and an optimal ignition timing to increase the efficiency of the engine. In addition to a further reduction in fuel consumption, this effect also reduces the compression work so that the engine displacement can be further reduced."
Source: Porsche Engineering Magazine, Issue 01/2013
Where can I mount my reservoir and pump?
The pump needs to be within about 60cm (hose length) of the reservoir, and as low or lower than the base of the reservoir. It is a "pusher" pump, not a "puller" pump. In the engine bay, the reservoir and pump can be placed almost anywhere, as long as they are not very close to exhaust heat, or in the path of debris from the road. Be sure that the pump is mounted at the same level or below the reservoir and that the reservoir is not located higher than the nozzle. If the reservoir must be located higher than the nozzle, a solenoid upgrade is required to prevent gravity feed. Trunk mounting is also fine, but the pump needs to be close to the reservoir and gravity fed. Lengths of 6-7m of tubing to the nozzle are fine.
Which mixing ratio and what kind of water are used?
Use distilled or demineralised water only. Distilled water is available in any hardware store (about € 1.50 for 5 litres) or gas station. Of course you can also use clean tap water when nothing else is available at the moment. Use methanol or bio-ethanol (approx. 45 € per 30 litres, including shipping), or isopropanol. A 50/50 ratio is recommended. This has been demonstrated to be the best for charge/air cooling, excellent detonation control, and safety.
Do NOT use E85 or any other fluid with gasoline mixed in. It will destroy the fluid delivery part of your Boost Cooler and instantly void the warranty.
How much range will a tank of Water/Methanol provide?
This depends on a number of variables. HP, injection system, settings, driving style, etc. For most gasoline engines in the 200-250hp range, the standard 3l tank will last around a tank of gasoline when driving on the road. Diesels use more fluid than a gasoline application, and are in heavier load states more often. Due to the higher consumption of liquid in turbodiesels and/or powerful gasoline cars, we recommend at least our 9.5 l or 26.5 l trunk mounting kit as needed.
Where can I mount the nozzle?
The best placement of the nozzles is in the area around the inlet to the intake manifold or virtually anywhere on the pipe leading from the intercooler to the intake manifold. The nozzles can be placed at any position on the tube, so long as they are pointing at a 90 degree angle to the direction of airflow. The nozzles can be placed in a series or right next to each other.
There is enough heat and velocity and flow through the pipe under boost to absorb the water/methanol regardless of the nozzle positions relative to each other. Placement before the intercooler or turbo(s) is not recommended. Cooling is not improved. Never mount an injector nozzle before a turbocharger compressor. Studies performed by SAAB, concluded that pre-turbo injection will over time cause cavitation on the turbo wheel leading edges.
Do I need to activate the Boost Cooler in some way?
The Boost Cooler will activate automatically. Depending on the system, it activates after receiving a pre-set boost pressure or engine load signal, and then starts injecting in a load-dependent manner.
Do I need an intercooler with the Boost Cooler?
Up to approximately 2bar of boost, water/methanol injection (using 50% methanol) will provide all the density increase/detonation control needed in most applications. Of course, intercooling and water/methanol injection would provide even greater benefits, especially beyond 2bar of boost.
Most air-to-air intercoolers are only 50-65% efficient. For example, with 0.75 bar of boost and the resulting 50°C air charge temperature increase, an intercooler reduces the air charge temperature only 25 degrees. Also, an intercooler will reduce boost 0.1-0.25bar on average.
Installation Images
| | |
| --- | --- |
| | |
| Installation inside the engine compartment | VC-MAF Controller |
| | |
| Reservoir with 9l capacity inside the trunk | LCD-Controller |
Reviews
Tunetec Performance
Berlin

Reinaldo Maloon
USA

 
"...it´s unbelivable what the Boost Cooler does!  We realized 520hp and 670Nm torque out of the RS4 by using the Boost Cooler!"
"Incredible! After installing the Boost Cooler™, I can run 8 psi more boost and more timing with no knock!"
 



Dougs Auto
USA

Simon W.
Schöllnach

 
"I can run 10° more timing! Now my Vortech supercharged Saleen runs like it should-huge seat of the pants difference!"
"...your Boost Cooler is just awesome ! Power increases, temperature drops. Thats how tuning should be !"
Test reports
Muscle Mustang & Fast Fords

Der Boost Cooler wurde in Verbindung mit normal-benzin getestet - und schlägt im Vergleichstest 116Oktan-Rennbenzin!
 

Popular Hot Rodding

A comprehensive article by David Vizard regarding forced induction recommends using Snow Performance for chemical intercooling and octane enhancement.

Super Chevy

Snow Performance Boost Cooler(r) is a featured product in a supercharger information section as a great way to reduce intake air temps and increase power - race gas performance at pump gas prices!

Super Chevy

Der Snow Performance Boost Cooler wurde in einem Motor mit Vortech-Kompressor verbaut.  Bei nur 7.7psi Ladedruck wurden standfeste 710PS erzielt.

Mustang Monthly

Snow Performance Boost Cooler(r) is a featured product in a buyers guide as a proven way to increase octane and power on naturally aspirate, high-compression engines. Increase fuel efficiency and run low-grade gasoline while improving performance.

DSPort

Part II of "Chemical Romance" series highlights the benefits of the Snow Performance Boost Cooler®. With gains of over 120 whp, the Boost Cooler® supports the same horsepower level as expensive race gas but with even better cooling and detonation control.

Hot Boat

Forced induction guru Dustin Whipple of Whipple Superchargers recommends the Snow Performance Boost Cooler® for a blown Mercury boat mo

Nissan Sport

A Stage 2 MAF Boost Cooler® is used to provide additional detonation control on a naturally aspirated Nissan QR25 engine with an astounding 12.5:1 compression ratio. Full ignition timing can now be realized while still using pump gas with an octane boost provided by water/methanol injection.

Modified Mag

Scott VanderHeide´s Boost Cooler assisted STi dukes it out in an Evo vs. STi match-up. See what the performance judges have to say about this super STi.

Peroformance Business

Performance Business interviews Snow Performance founder, President, and CEO, Matt Snow. Matt provides some insight on the modest start of his company as well as its exponential growth over the past seven years.

5.0 Mustang & Super Fords

The Shelby GT 500 Mustang comes well equipped to make some mean power straight from the factory. With an assortment of go fast goodies including a Snow Performance Boost Cooler, we take mean to a new level by incresing power by more than 60 whp!

Ford Builder

Supercoupes Unlimited and Dave Dalke team up to upgrade a '94 Thunderbird SC with a Snow Performance Boost Cooler. With a stealthy install this unsuspecting T-Bird packs a punch with an additional 53 hp thanks to a cooler air charge and additional detonation suppressant.

Modified Mag

SEMA show coverage that includes a brief look at what Snow Performane - The Water-Methanol Injection Experts - has to offer in the near future.

Popular Hot Rodding

Popular Hot Rodding's supercharger issue is loaded with lots of forced induction features. Chris Downie's Magnacharged Chevy Silverado is not only blown but also enjoys a nitrous and water/methanol injected cocktail of power.

Mustangs & Fast Fords

Who wouldn't want maximum performance with peace of mind? The Snow Performance SafeInjection allows those who want to run on the ragged edge of performance to do so in complete saftey. Tied with an J&S Electronics SafeGuard, the SafeInjection unit will pull timing to prevent any chance of detonation if a loss in flow is ever detected. The water/methanol injection experts bring you the best in performance and safety.

Modified Mag

William Updegrove's subtly modified Toyota Celica proves the old adage that less is more. His clean and simple approach is powered by a GReddy supercharged 1.8L that is liquid intercooled thanks to the Boost Cooler.

Modfied Mustangs

Matt Snow developed the best water/methanol injection available and decided to build a car specifically to showcase his products. The 4.6L SOHC three valve motor is turbo charged and detonation is keep at bay with the Snow Performance water/methanol injection system.

GM High-Tech Performance

David Childress' daily driven '98 Pontiac Formula relies on the Snow Performance Boost Cooler to make 1000 whp and run 9 second ET's on pump gas.

Drag Racer

Nitrous injection innovator and N.O.S. company founder Mike Thermos discusses the advantages of running water/methanol injection with any nitrous injection setup.

Modified Mustangs

Modified Mustangs recommends that the Snow Performance Boost Cooler be used to make more power safely for new Mustangs with aftermarket turbo kits.

Modified Mustangs

Modified Mustangs recommends that the Snow Performance Boost Cooler be used to make more power safely for new Mustangs with aftermarket turbo kits.

Hot Rod Magazine

Coverage of a Snow Performance Boost Cooler kit that is installed on a ProCharger supercharged Z06 Corvette.

Hot Compact and Imports

As impressive as the Jackson Racing supercharger is, it is limited by the fact that it doesn't offer any kind of intercooling to support higher boost levels. This is remedied by the Snow Performance Boost Cooler as it provides chemical intercooling and an octane boost. A mild B16A receives a healthy increase in power, cooling, and reliability.

5.0 Mustang & Super Fords

With a Max Power turbo kit, slammed stance, retro-Boss style graphics, and a Snow Performance Boost Cooler, Matt Snow's '05 Mustang is a screamin' "Snow Stormer."

Import Tuner

A Comptech supercharged Acura NSX is treated to Boost Cooler and tuning from HKS. With water/methanol injection and 5.5 psi of boost, the timing was turned up beyond what a stock n/a NSX normally runs.

Mustangs & Fast Fords

Since the Mustang had been tuned using race fuel, we had to make several runs to tune it for pump gas before we would be able to start adjusting the Boost Cooler. While 493 rwhp on 93-octane pump gas is nothing to be ashamed of, the Boost Cooler eclipsed that by 78 hp for a total of 571 rwhp. Torque also increased from 477 to 516 lb-ft

High Performance Pontiac

Product review of the Snow Performance Gas Stage 2 GM MAF Boost Cooler.

Mustangs & Fast Fords

A double dose of water/methanol is just the thing needed for an Acura Integra and Mitsubishi Lancer Evolution VIII. With some chemical intercooling and the SafeInjection system monitoring flow, the boost can safely be cranked up to make more power.

Camaro Performers

Product review of the Snow Performance Gas Stage 2 GM MAF Boost Cooler.

Auto Bild Sportscars

6 Autos, die eines verbindet: Ihre Leistung kennt keine elektronischen Grenzen. Mit insgesamt 9506 PS stellen sie in Nardo mit Nachdruck unter Beweis: Bei 250 km/h muss lange nicht Schluss sein.

Audi Tuning

Ausgabe 04/2006 - "Audi RS4 Powertricks"
 
Boost Cooler Stage 2-VC25       Audi RS4 Digi-Tec

Artikel über Leistungstricks bei einem Audi RS4 - vorgestellt wurde ein von DigiTec modifizierter RS4 mit ca. 500PS und Boost Cooler System<

High Performance Pontiac

Product review of the Snow Performance Gas Stage 2 GM MAF Boost Cooler.

Ford Truck Performance

A JLP prepped Lightning takes it a step further with a Snow Performance water/methanol injection system.

5.0 Mustang & Super Fords

The Snow Performance Boost Cooler is installed on a well warmed over 2004 SVT Cobra.

Chevy High Performance

A Magnacharger supercharged Chevy Silverado SS pickup uses a Boost Cooler water/methanol injection kit to reduce intake air temperatures and make more power.
---