Boost Cooler Stage 2 TD Water Injection
Description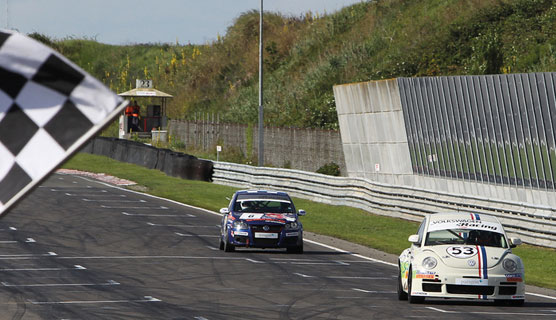 Features
Boost controlled progressive Water Methanol Engagement & Monitoring
Systems for virtually any turbo diesel (TDI/TDCi/TDS/etc.) of approx. 80 - 1000+ hp.
More power and torque possible of up to 15-25%
Reduction of the thermal loading in already modified turbo diesel, such as chip tuning.
Reduction of exhaust gas temperature (EGT) of up to 120° C - ideal for tuned engines or trucks.
No charging pressure loss as in conventional intercooler, highly efficient! Additional cooling of the charge air of up to 60° C possible.
Reduction of specific fuel consumption by up to 10-15%
Reduction of nitrogen oxide formation & carbon emission with full load acceptance, ideal add-on to DPF.
Deposit free combustion chamber and air intake, without formation of carbon.
Individual consulting and configuration are possible.
Easy installation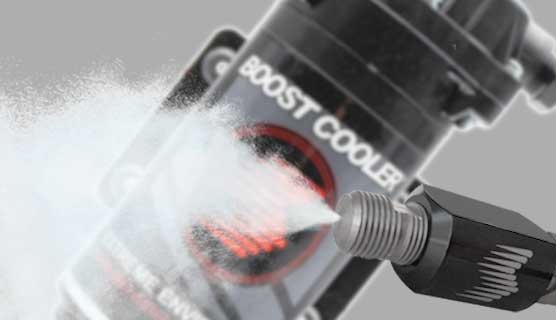 Power and Cooling with Water Injection
Obtain up to 10-25% more power in your turbodiesel engine, even if it´s pre-tuned, by using the Boost Cooler™-Water/Methanol Injection System!
The main function of the Boost Cooler is to suppress detonation caused by high temperature and pressure developed within the combustion chamber when the effective compression ratio has been taken beyond the auto-ignition point by either a turbo or a supercharger. Water, with its high latent heat content, is extremely effective for controlling not only the onset of detonation but also the production of oxides of nitrogen in the modern leanburn engines.
Furthermore, the Boost Cooler doesn't create an intake restriction like an intercooler, and unlike race gas, it reduces intake air temps up to 60°C and improves charge air density too.
Snow Performance systems effectively steam clean the valves, valve seats, and even the piston tops and intake when they inject. This reduces carbon build up. The Boost Cooler™ can be installed in a matter of hours without having to remove bumpers or do custom intake piping.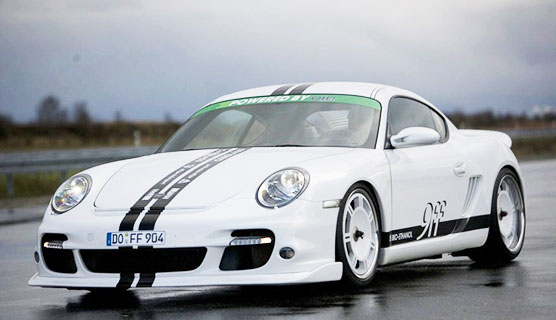 More Power by Boost Cooler
With the Boost Cooler, you can achieve up to 10% extra power for suction engines. The optimal cooling compensates for power losses at higher outside temperatures. In addition, deposits in the combustion chamber and intake manifold are reduced.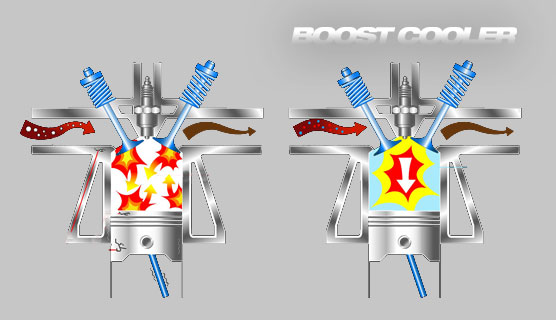 Low Boost or High Boost System?
The holding pressure of your turbocharger should not exceed 2.1 bar. Our Boost Cooler Stage 2 TD Power-MAX as also the Stage 3 kits handles all boost pressures up to 3.5bar.

QUALITY through technical know-how from the motorsports
Over the years, Snow Performance has become the world´s leading manufacturer in Water-Methanol Injection Systems. Each system has been designed and tested by engineers to ensure reliability and robustness.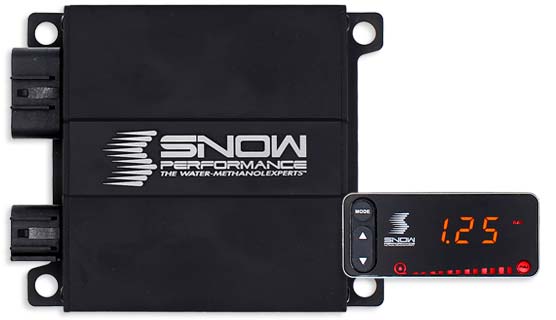 Boost controlled variable injection
This kit progressively injects more or less water resp. water-alcohol according to manifold boost pressure. The system is applicable for turbo diesels making up to approx. 25psi/1.7bar of boost pressure. It has two dials to set the start and full points to tailor the delivery to your engines needs. Progressively injecting according to boost pressure allows for the most power over the widest range of rpms
The settings on the Stage 2 TD Low -Boost (VC-20)-control unit can be made within a few seconds without any prior knowledge.The only thing you need to determine is at what boost pressure the injection is to begin and what the maximum boost pressure is. - The variable injection of the Boost Cooler is performed within these two preset boost pressure points..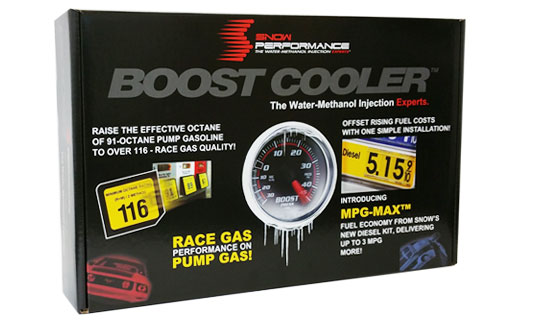 Scope of delivery
1 x High Pressure Diaphragm Pump, 300 PSI
1 x VC-30 Controller with Display and MAP-Sensor
2 x Nozzle
1 x 3l Boost Cooler Reservoir
1 x Low level indicator (includes LED and an EZ installation gommet)
1 x Pressure tubing 1/4" (3 metre)
1 x 1/4" Nozzle Holder, 90° Steel
1 x Installation material
1 x Installation instructions
FAQ
Frequently asked questions
Why turbo / naturally aspirated engine achieves more power with the Boost Cooler?
The main problem of any internal combustion engine is the thermal load. In nearly all engines, the power is restricted by the temperature in the combustion chamber. If a certain temperature is exceeded, uncontrolled combustion ("knocking") occurs.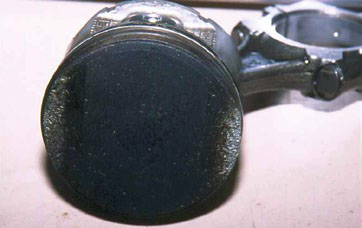 Uncontrolled combustions results in a massive loss of power and engine damage. In a turbo engine, this problem is compounded even further. The intake of the turbo engine heats up strongly in the turbine (through compression and heat transfer of the exhaust gases) and the thermal limit is quickly reached. In conventional turbo engines, one tries to get this problem solved with the help of intercoolers.
The performance of a turbocharged engine is therefore directly dependent on the efficiency of the intercooler, as well as the cooling rate of the intake and charge air. The efficiency of intercoolers, however, is constrained by the ambient temperature and the maximum size of tight physical limits. An increase in boost pressure no longer produces more power and the damage to the engine is virtually inevitable. This issue can be solved using the Boost Cooler waterinjection concept. You can ensure additional cooling of the heated intake air through the injection of a water / alcohol mixture. The great advantage of the Boost Cooler is that the cooling is virtually unlimited in physical terms. That is, if the intake air is too hot, simply increase the injection volume to achieve the required cooling degree. This unique advantage can help fully exploit the capacity of turbo engines and the engine power is not restricted by the thermal limits.
Does the Boost Cooler cause any damage to my engine?
No. At a relative humidity of 50% and ambient temperature of 25° C, a turbocharged engine consumes (2.0 l displacement, 1 bar boost pressure) approx. 160 ml of water per minute. For example, if a gasoline engine is used, the combusted air / fuel mixture consists of approximately 50% of water vapour and carbon dioxide.

With the injection of 250 ml/ min of water per minute at full load, the Boost Cooler accounts for less than 1.6% of the exhaust gases Horror scenarios ("water hammer", rusting motors, etc.) that some of you might have read on the Internet tuning forums are only based on a lack of understanding of the technical writer or improper systems.
Study of Porsche Engineering (excerpt): "The technology of water injection into the intake manifold provides significant potential. This technology can use a stoichiometric air-fuel ratio in the entire operating area and an optimal ignition timing to increase the efficiency of the engine. In addition to a further reduction in fuel consumption, this effect also reduces the compression work so that the engine displacement can be further reduced."
Source: Porsche Engineering Magazine, Issue 01/2013
Where can I mount my reservoir and pump?
The pump needs to be within about 60cm (hose length) of the reservoir, and as low or lower than the base of the reservoir. It is a "pusher" pump, not a "puller" pump. In the engine bay, the reservoir and pump can be placed almost anywhere, as long as they are not very close to exhaust heat, or in the path of debris from the road. Be sure that the pump is mounted at the same level or below the reservoir and that the reservoir is not located higher than the nozzle. If the reservoir must be located higher than the nozzle, a solenoid upgrade is required to prevent gravity feed. Trunk mounting is also fine, but the pump needs to be close to the reservoir and gravity fed. Lengths of 6-7m of tubing to the nozzle are fine.
Which mixing ratio and what kind of water are used?
Use distilled or demineralised water only. Distilled water is available in any hardware store (about € 1.50 for 5 litres) or gas station. Of course you can also use clean tap water when nothing else is available at the moment. Use methanol or bio-ethanol (approx. 45 € per 30 litres, including shipping), or isopropanol. A 50/50 ratio is recommended. This has been demonstrated to be the best for charge/air cooling, excellent detonation control, and safety.
Do NOT use E85 or any other fluid with gasoline mixed in. It will destroy the fluid delivery part of your Boost Cooler and instantly void the warranty.
How much range will a tank of Water/Methanol provide?
This depends on a number of variables. HP, injection system, settings, driving style, etc. For most gasoline engines in the 200-250hp range, the standard 3l tank will last around a tank of gasoline when driving on the road. Diesels use more fluid than a gasoline application, and are in heavier load states more often. Due to the higher consumption of liquid in turbodiesels and/or powerful gasoline cars, we recommend at least our 9.5 l or 26.5 l trunk mounting kit as needed.
Where can I mount the nozzle?
The best placement of the nozzles is in the area around the inlet to the intake manifold or virtually anywhere on the pipe leading from the intercooler to the intake manifold. The nozzles can be placed at any position on the tube, so long as they are pointing at a 90 degree angle to the direction of airflow. The nozzles can be placed in a series or right next to each other.
There is enough heat and velocity and flow through the pipe under boost to absorb the water/methanol regardless of the nozzle positions relative to each other. Placement before the intercooler or turbo(s) is not recommended. Cooling is not improved. Never mount an injector nozzle before a turbocharger compressor. Studies performed by SAAB, concluded that pre-turbo injection will over time cause cavitation on the turbo wheel leading edges.
Do I need to activate the Boost Cooler in some way?
The Boost Cooler will activate automatically. Depending on the system, it activates after receiving a pre-set boost pressure or engine load signal, and then starts injecting in a load-dependent manner.
Do I need an intercooler with the Boost Cooler?
Up to approximately 2bar of boost, water/methanol injection (using 50% methanol) will provide all the density increase/detonation control needed in most applications. Of course, intercooling and water/methanol injection would provide even greater benefits, especially beyond 2bar of boost.
Most air-to-air intercoolers are only 50-65% efficient. For example, with 0.75 bar of boost and the resulting 50°C air charge temperature increase, an intercooler reduces the air charge temperature only 25 degrees. Also, an intercooler will reduce boost 0.1-0.25bar on average.
Installation Images
| | |
| --- | --- |
| | |
| Installation inside the engine compartment | VC-MAF Controller |
| | |
| Reservoir with 9l capacity inside the trunk | LCD-Controller |
Reviews
Tunetec Performance
Berlin

Reinaldo Maloon
USA

 
"...it´s unbelivable what the Boost Cooler does!  We realized 520hp and 670Nm torque out of the RS4 by using the Boost Cooler!"
"Incredible! After installing the Boost Cooler™, I can run 8 psi more boost and more timing with no knock!"
 



Dougs Auto
USA

Simon W.
Schöllnach

 
"I can run 10° more timing! Now my Vortech supercharged Saleen runs like it should-huge seat of the pants difference!"
"...your Boost Cooler is just awesome ! Power increases, temperature drops. Thats how tuning should be !"
Test reports
Diesel Power

Mit dem Snow Performance Stage 3 Boost Cooler system wurde bei einem 1991er Dodge Cummings eine Leistung von 587PS erreicht.
 

Diesel World Feature Truck

The Snow Performance MPG MAX® Boost Cooler® is installed on a Ford 6.4 Powerstroke with fantastic results! The editor is impressed because the results are better than promised.

 

Diesel World

Discussion of the Boost Cooler® MPG MAX® and how it positively affects fuel mileage.

Diesel Tech

Diesel Tech installs the MPG MAX Boost Cooler to increase towing power, decrease EGTs and INCREASE FUEL MILEAGE!

 

Diesel Tech

Snow Performance im Produktführer als einziger Hersteller von Wassereinspritzungen empfohlen.

8 Lug Tests the new MPG MAX

8 Lug Installs the new MPG MAX on a GM Duramax.

 

Diesel World

The newest issue of Diesel World has details on the SEMA International Media award won by Snow Performance as well as new prouduct info and an installation article on the new MPG-MAX system. The MPG-MAX provides better cooling, more power, and better fuel economy gains than any other water/methanol injection system available.

Dresden-Breslau Rallye auf N-TV Sport

Rallye Dresden-Breslau - Abseits der Straße durch Sand, Schotter und Morast. Eine Abenteuer-Fahrt für Off-Roader. Die Redaktion von N-TV bestritt die Rallye in Zusammenarbeit mit Suzuki Deutschland und Snow Performance. Der Suzuki Jimny, mit einem 1.5l Turbodiesel Motor, ist dem Boost Cooler Stage 3 Diesel- LCD System ausgestattet worden.

 

Diesel Builder

The new Boost Cooler Stage 3 Diesel MPG-MAX system continues in the Snow Performance tradition of making more power, controlling EGTs, and reducing emissions but with the added benefit of maximizing your fuel economy. Check out the simple MPG-MAX installation and see how it compliments other power adders and increases fuel economy by 2-3 mpg.

Diesel Power

Today´s turbo diesel trucks pull double duty as they get used as a work horse, daily driver, trailer puller, or play toy. George Wadeson´s ´06 1-ton Cummins is no exception and it sees it´s fair share of use whatever the reason may be. A Snow Performance Stage 3 Boost Cooler helps keep EGTs down while the 65 psi of turbo boost cranks out 1200+ ftlb of torque.

 

8 Lug Diesel Truck

Rodney Findley's Dodge diesel truck is an extreme audio and visual experience on wheels. Motivating the traveling entertainment booth is a hopped-up 5.9L Cummins with a long list of performance enhancing mods including a Stage 2 Boost Cooler system.

Diesel World

Ralph Merwin's custom J-series Jeep pickup sports a 12 valve Cummins diesel engine that is enhanced by the Snow Performance Boost Cooler for more power and reduced EGTs.
 

Diesel World

The Snow Performance Stage 3 Diesel Boost Cooler is installed on Bully Dog's custom 6.7L Cummins. Using Boost Juice, the truck pumped out an additional 103 hp and 289 ft-lbs of torque!

Diesel Power

Diesel Power magazine suggests that water/methanol injection be one of the first 11 modifications that you do to your diesel truck.

 

Diesel Builder

Stacked Diablo Sport performance controllers plus the Boost Cooler deliver over 200 hp on Snow Performance's own '04 Cummins 3500 shop truck.

Diesel Power

Build up coverage of the 11 second Project X Dodge Cummins diesel truck which features the Snow Performance Boost Cooler.
 

Turbo Diesel Register

A double controller stacked 2004 Dodge Ram 5.9L Cummins pulls double duty as a daily driver and frequent work horse. Over 100 WHP is achieved with the Snow Performance Boost Cooler along with a host of other performance goodies.

Base-Horsepower: 279PS 
==> Boost Cooler w/ 50% Methanol: 453hp   ==> w/ 75% Methanol: 487hp!

Diesel Power

Boost Cooler installation on a 2004 1-Ton Dodge Cummins with before and after dyno results.
 

Trucks

A 2004 Ford F-350 receives a Snow Performance Boost Cooler and picks up over 50 whp.

Turbo Diesel Register

An in-depth article that takes the many benefits of water/methanol injection for a modern turbo diesel into consideration.
---